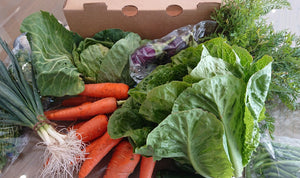 The Valota Veg Box this week will include:
1 head Broccoli

3pk Organic Baby Gem Lettuce

~150g Organic Baby Leaf Salad Mix

~330g Organic Baby Marrow Patty Pan Punnet

~200g Organic Baby Spinach

1 bunch Golden Beetroot

1 bunch Baby Carrots

1 bunch Organic Spring Onion

1 bulb Fennel

~50g Organic Wild Rocket
Note: 
Contents may vary to above picture and are subject to availability.
Price excludes shipping.
Unfortunately no customization available on the Valota Veg Box!