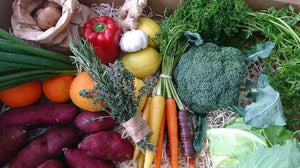 For those of you who don't enjoy getting your hands dirty, we have the perfect box for you, our Boutique Veg Box. The veg in this box comes trimmed, washed of all sand, dried and packed in a sealed box ready to pop into your refrigerator. Farm fresh veg with added convenience! Could you ask for more?
Box contents vary weekly and contains a selection of fruit, veg and herbs.
Note:
This subscription is for four Valota Boutique Boxes delivered over four consecutive weeks from date of purchase.
Delivery will be charged at 4 X R40.
Contents may vary to above picture and are subject to availability.
Price excludes shipping.

Unfortunately no customization available on the Valota Boutique Box!